I di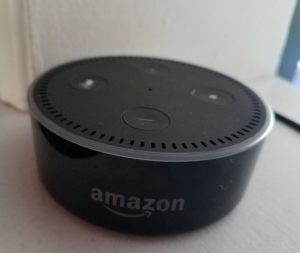 dn't need to get Alexa. But I thought it might be a cool thing to have so I compromised and got the inexpensive Echo Dot to test the waters. What I found was that we use it way more than I ever thought we would and we don't even take advantage of many of its features. It has helped so much with our daily life. Here are some of the ways we use Alexa every day in a busy family.
Timers and Alarms for kids– I just call out "Alexa- set a timer for 10 minutes" or "Alexa- set an alarm for 7:55am". When that timer goes off, the kids know exactly what they should do and they love telling Alexa to stop. When I know we have to leave for dance class soon but could very well get distracted, a simple call out to Alexa ensures we remember to leave on time.
Timers for cooking– Boy do I love be able to just call out cooking timers. I can "set a rice timer for 20 minutes" and then "set a beans time for 45 minutes" and she keeps track of both for me. Love it!
Weather Forecast– My kids will say "Alexa- what's the weather today?" so they know if they should wear shorts because it will be in the 90's or pants because it will be in the 70's. In Los Angeles, the weather varies so much you need to check lest you be fooled by the cool temperature in the morning only to find you are sweating bullets by the time school lets out.
Reminders– you can have Alexa remind you to do something specific and she'll say it. Whether your husband forgot to pick up the kids at early dismissal (it happened) or you want to remember to take the library books in just ask her to remind you. From my phone I can even tell Alexa to remind my husband to "pick up the kids" at 2:00pm and she will say "This is a reminder- "Pick up your kids." Your spouse may or may not find it amusing when you do this.
Grocery Lists– never thought just being able to call out things to add to the grocery list would make me so happy. Just say "Alex add milk" and milk instantly appears in the app on your phone for when you are at the grocery store.
Spelling– My kids can ask Alexa how to spell something. I love not always having to be the dictionary.
Basic Questions– Now your kids can ask Alexa questions like what is the capital of a New York or when was Alexander Hamilton born. No need to admit you don't know these answers yourself or grab your phone. If they try asking her where babies come from or if the tooth fairy is real- they will get a funny answer.
Music– We love being able to call out a song and having Alex play it. We have Amazon Prime so we don't have everything but we do have a good amount of music options. My kids get a kick out of getting Alexa to stop when their dad picks a song.
Lights– We got a few smart plugs and we all love being able to turn lights on and off by just calling it out. It's great to be able to do it when I am not home and forgot to leave a light on.
Messages- You can leave a voice message for other people with Echos. My kids love to leave and receive message for their friends with Echos. I want to get my parents one so they can enjoy getting messages from the kids too.
Skills– There are hundreds of extra skills you can pick. We have only tried a few so far, but we enjoy playing Jeopardy together. The kids like Magic 8 Ball and Brainy Bee, my husband likes Flatter Me and The Daily Show, I like Save the Food. Nag My Kids is also fun when they don't want to listen to you when you tell them to brush their teeth- but they will listen to Alexa.
We also got a Google Home. Google definitely has more information and it has a better speaker. We honestly haven't spent as much time figuring it out. It has many of the same features as Alexa. We are completely covered in the digital assistant category. When we first got Alexa, my daughter commented that we seemed lazy having Alexa doing all these things. I have to disagree. It is freeing. It makes me feel more efficient. I could never go back to having to get on my phone to do simple tasks. Thank you Alexa and OK Google for having our back. I don't even care if you are always listening to me.