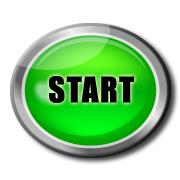 What if you weren't born organized? Is there still hope? Absolutely! You can always learn. There is no Rosetta Stone for organizing fluency or Cliff Notes to just get to the main points. There is not one best way to do it or a fool proof system that works for everyone. But there is a tremendous amount of information and resources out there to help you get organized in many different ways.
Here are some things to keep in mind as you begin your organizing journey:
 1. Be kind to yourself. No sense in beating yourself up over past behaviors, purchases, or accumulated stuff. What matters now is that you are going to take a step forward and you are going to learn from your past.
2. Almost anything is progress. Forget about perfection. Don't get caught up in trying to find the one best way or best product that will somehow be the miracle you have been waiting for. Doing something, no matter how small, is better than procrastinating and doing nothing.
3. Do what works for you- not what everyone else is doing. The amount of available programs, apps, and electronics is staggering. But if your paper calendar that you have been using for the last 18 years works for you- then keep using it. Don't try and change to something newer and shinier just because everyone else seems to do it.
 4. Don't let guilt hold you back. Thoughts like,"but I spent so much money on this", "but my grandmother gave that to me", or "but I was supposed to be a size 2 again" can make it really hard to move forward. If you use it and love- great- keep it! But if you are keeping it only because you feel some sort of guilt about letting it go- then you need to learn to let it go. Free yourself from unnecessary guilt!
 5. Organizing is not an event. It is a lifestyle. It takes time and effort to get organized and then time and effort to stay organized. It is not something you do one weekend and then you are done with organizing forever. Once the initial hard work is done, and some behaviors are changed, maintaining that organization gets easier and easier. It is a new way of handling your everyday life that ends up saving you time and stress.
6. Sometimes you need a professional. Let's face it. We eat better if we have a personal chef. We train better (or actually get to the gym) if we have a personal trainer. All the cook books and exercise videos in the world are not as good as having that expert right by your side working on your specific issues. The same goes for organizing. There are lots of books and videos out there to help you- but sometimes, having a Professional Organizer by your side is the difference between actually getting things done and learning new skills or feeling hopeless and overwhelmed. Know when it is time to get help.
Happy Organizing!