January b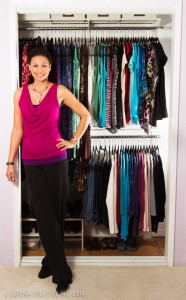 rings fresh starts, goals, resolutions- and the Elfa Closet Sale at The Container Store. I got an Elfa closet 9 years ago when I moved in with my then fiance and had to use the most ridiculous closet space for my clothes. The closet was very high and long with very little access to it aside from a tiny door. There was no way around it. I needed Elfa. We designed a double hang closet that accommodated the space and made it functional for me in a way I didn't think possible.
A year later, we moved and that Elfa closet moved with me. In our house, the master closet was done, but my daughter's room needed a better closet. With just the addition of 3 parts, my old closet was reconfigured and became my young daughter's new closet. As she grows up, the low hanging bars and shelves will move upward. This closet will work the whole time she is growing up! Now that is a worthwhile purchase.
Once my father gave up trying to share a closet with my mom, he moved his clothes to the guest room closet. Only problem was, that closet had also turned into a kitchen pantry. I used Elfa to turn one closet into a clothes closet for my dad on one side- and a pantry with shelves on the other side. It created much more space in the closet and made it functional for its dual purpose.
I love Elfa for it's ease and flexibility. You customize it to your space, budget, and tastes. Keep it simple and inexpensive with just the basics or go for everything from mesh drawers to jewelry trays.  There are usually 2 sales a year so try and time your closet purchase accordingly. Right now it is 30% off until February 11, 2015. Their designers are great. They can install it if you can't. (It is pretty easy.) I love the way the catalog looks- but let's be honest- no one's closet has only 7 shirts and 6 pairs of shoes. I wish they would show what a real closet looks like with Elfa- so here is one =)