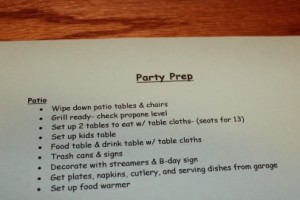 Labor Day and a big BBQ weekend are almost here. Whether you entertain frequently or just occasionally, preparing to have people over can cause so much stress and work that you may question why you ever decided to do it in the first place.  Here are some simple ways to make party planning easier.
1. Make a "Pre-Party" To-Do List. What needs to be done ahead of time? Order balloons? A cake? Make goodie bags? Clean the outdoor toys and furniture? Make some of the food? Make a master list and use it every time you have a party. Whether it is a kid's birthday party or a big family gathering, basically the same things need to happen ahead of time. Just open up the master list on your computer and adjust it to the current party. This way you don't forget anything and it helps keep you grounded.
2. Make a "Day of Party" To-Do List. Put the list out and whoever is there to help set up can easily see what needs to be done or what errands have to be run. (See part of my list in the photo above.) This keeps everyone on the same page and eliminates constantly asking the host what to do. Once again, make this a master list that you alter slightly for each event. You can even have a kitchen/food list for all the people who end up in the kitchen asking if you need any help while you are cooking. Some people really like to be helpful so make it easy for them!
3. You Don't Have to Clean Everything. Some of the stress people feel before having a party is that they must clean every nook and cranny of their house before company comes. Your guests are not coming over with white gloves to check dust levels or look under your bed to see if there is a hair ball. Your guests are coming over to see you and have a wonderful time which is hard for you to do if you are exhausted from cleaning behind the fridge. Save that for spring cleaning! Just straighten up and do a quick clean. If you are having children over, a clean house only lasts 3 minutes anyway.
In the end, everyone has a great time and more wonderful memories are made. All the stress, planning and effort melt away and you think, "That wasn't so bad. We can do it again." And you will!