I've seen this recycling cen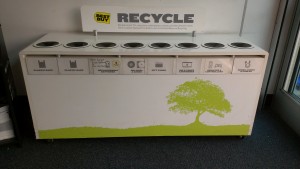 ter at Best Buy before and thought it was really cool. But I could never remember exactly what I could recycle there until I took a picture. I had a hard time finding a place to recycle empty DVD or CD cases- until now! I've never seen anyone else recycle gifts cards! This little recycle center is pretty handy!
I like it when stores make it easy for customers to recycle things that need extra care in recycling. Places like Lowes and IKEA take batteries and CFLs. All the plastic bags should be properly recycled at store bins. I never forget my own bags when shopping- yet I still amass a lot of plastic bags. They are everywhere! Around my newspaper, clothes from the dry cleaner, produce, bread, toilet paper- the list is endless! At least I can take them somewhere to be recycled.
Problem is, you usually arrive at the store empty handed and then see the display and get mad that you forgot those bags and batteries- again! I like to move them to my car once I have accumulated enough for a small bag. That way I have them with me next time I am in a store that recycles. Walking back to my car is a lot easier than forgetting them at home again. We need to make the extra little effort to recycle things that don't go into our normal recycling bins at home. Thankfully a lot of stores you are in all the time can help! Just look around!