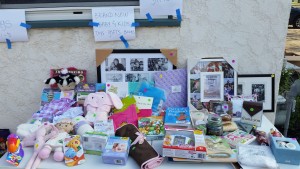 I just had my 2nd yard sale in 6 months. I had one 10 years ago and it was such a miserable experience I swore I would never do it again. But as an avid donater and recycler, I've been a little disappointed to see dumpsters at some local donation places full of things that someone could still use even if the place couldn't sell it or electronics that should be recycled. I started to think maybe a yard sale would be a good way to make sure my stuff went to someone who wanted it and not to a landfill. A like minded neighbor with 2 kids also wanted to try a yard sale so we did our first one together right before Christmas. There was a learning curve, but the experience was good enough for both of us to do it again.
Our second yard sale this past weekend was…pleasant! I am not a yard sale pro by any means- but here are some tips that have worked well for us:
Start a yard sale box or corner way ahead of time to start dropping things as you come across them in the weeks or even months beforehand.
Also start a box for freebies- anything that is still useful but you can't really sell. No one is going to pay for a free mug from the dry cleaners that you don't want either. Did you try a new shampoo and hate it so you stuck it under your sink to die? Put it here! Someone else will want them!
Knowing you can do another garage sale in a few months relieves some pressure to do it all now and try to go through your entire house at once. That is a lot of work!
Make it a multi-family yard sale if possible. More for people to buy and more fun for you to do with a friend.
Group like items together and display them on tables or blankets. If you have a clothes rack, use it!
Buy the sets of Yard Sale stickers or dots to write on. You can also just use painters tape to tag items.
Don't put the yard sale sign up until you are ready and set up. On both of our sales, we did not advertise or post them anywhere. We set up at our own pace and when we were ready, we put out the signs on the corner. We live in a great area for yard sales because people start coming immediately. It is amazing!
Have change, shopping bags, a printing calculator, labels and a Sharpie for when you start to drop prices at the end.
Have the box of freebies available to people who bought a lot from you as a bonus.
As things get sold and the tables start to empty, reorganize and make it look nice again.
Towards the end, you have to start making decisions on prices you want to drop, what you will donate afterwards, and what you'll try and sell next time. Keep in mind if it didn't sell this time, you have to drop the price next time or admit that it might not be as great as you once thought it was.
In 4 hours, we were done with our yard sale. A lot had been sold. Leftovers were donated or held for the next time. (As long as we have kids outgrowing things at record pace- we will have stuff for a yard sale.) The boxes of free stuff had been taken by lots of appreciative people rather than added to a landfill. I don't do this for the money but more for the process of clearing out things and watching them go to a new home with someone who is excited about them. It is also a great reminder to think before you buy something new and to realize the electronic gadget you spend $200 for today isn't worth $5 at a yard sale 2 years later.