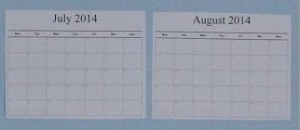 For the first time in my life, I felt like I really needed to see the whole year at a glance. One or two months at a time would no longer cut it. Not when I get notices in December for a recital that isn't until June, have constant events at an elementary and pre-school, and a spouse who travels often. Oh yeah- and then there is work! I looked on-line for a nice big year at a glance calendar and was surprised that they were around $25. That didn't make much sense since I would have to buy one every year. So instead, I bought two large 22″ x 28″ pieces of colored cardboard and simply printed out the 12 pages of a calendar. I used some post-it type sticky glue to stick the pages on the cardboard mat, then stuck the cardboard on the wall. We each got a different colored Sharpie and the filling in began. Now I don't put regular events on this big calendar. Dance class is every Monday, so there is no need to write that. But any special events and non-regular activities or travel goes up here so we can see it coming.
So far, I really like being able to see my whole year like this. Before when my husband would tell me that he would be traveling for a week 4 months from now, I couldn't really wrap my head around it. Now it goes on the calendar and I can see when I need to start planning for that week. I keep my regular calendar on my computer where I enter the recurring events, work, and things to do so it can sync with my phone. Then I add things from the big calendar as the time approaches.
Aside from it being really inexpensive to make your own big wall calendar, it also gives you an advantage. Rather than having to wait for the next year's calendar, you can start adding pages for the following year as the months pass. I figure that by June, I will probably replace the first few months that are over with fresh pages for 2015. Sometimes it is better to just make something the way it will work for you!